I was going to originally write out a blog but I'm running out of paper!
I'm now in Chicago and it's snowing and shit! What's up with that??!!!
I love it here and will miss it when I leave in May. Ironworking school is going along just fine :-)Everyone here is gracious and grand in their own way. It's a long stretch from dirty red dusty trails and poetry :-P
I have major headaches from cramming all the time and just had to read sixty pages of stuff last night. Oh! Not to mention I had to do math for class also. It's tough but she's hanging in there! I have to stress that if you do have a MySpace account add me because I spend more time there than here. Sorry for the delay.
So I got to get ready for that quiz and probably tie more knots and mess around with machinery today. It's different but I have a penchant for trying to figure things out. I get homework everyday and have tons of stuff to study for quizzes the next day so I'm always on my feet or trying to be a mathematics genius here :-P
So on that note I gotta study a little and get some liquids in me. Catch you all later and I will post some pictures of me in the Windy City soon.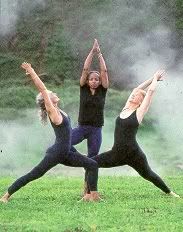 That's the mode I gotta get into! Definitely :-)


Ciao!