So here I am back home and done with class. I'm really enjoying the freedom of not having to wake up at 5 in the morning and spend all day with "Snout!"
I'll elaborate on that one later :-)
I have my letter of completion and an order to report to the Union at which I am designated soon!!!
I'm very happy that I'm finished and am going to start finally making some money! For those of you who do not know the conditions on the reservation it's like living on Mars with dial-up internet!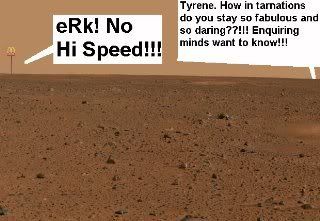 lol. No! It's not that bad but the job opportunities here are deplorable. Anyway I'm straying from my title- ever since I got worked over by steel at school I lost some weight where I needed to! I gained muscle instead and lost the "pouch." The "pouch" is that stubborn little area of fat that lay on my abdomen.
I really want to keep that off!!!
So in an attempt to stay in shape I've asked my relatives if they need any kind of help to ask me. Seriously I could barely cut through one length of wire with a wire cutter when I first started tying rebar. By the end of school I could cut through three with one hand!
Hell yeah :-)
So my dad has a ceremony going on this week and I was asked to help with patching up the ceremonial hogan (which was in bad bad shape) so he could have it there. Of course now that my relatives know that I finished school and am heading to Union they asked me! It's all good considering for it's my Dad and family. I did it, with some help, from my two brothers. I know absolutely nothing about Masonry but learned quickly! Believe me hauling containers of cement and sand is hard. I did hear something by a female Ironworker about how
"it doesn't always have to be about muscle."
She said
"you have to be smart about your work!"
She was right. So my "gray matter" helped me beat a sprained back and much pain. Well I still was sore but it felt good but not in a twisted way lol. I don't play that stuff!

Now I have to hunt for money for "start up." "Start up" is the money I'll need to secure a place to stay, traveling expenses, and my Union dues. The school I was in will pay $175 towards the dues but I need at least 100 dollars more. This will secure my payments for the rest of the year. I basically have to hunt for resources now that, God willing, will help me get to where I need to go and begin work. I am secured a job but the thing is "starting up" funds as I am at twenty dollars right now!

So I'm going to log off now and enjoy some of the spare time I have. I have to make a phone call to the guy who helped get me into the school and see if he has any ideas. I may add some pictures of the work I did soon. I also took major pictures in Chicago but I have not taken the film out yet from ***-Mart! Sorry ***-Mart your name does not get mentioned here unless you help me out with "start up" funds :-P

Have an awesome day guys :-)