Here are two pics of Ironworking School.
Here we are in downtown Chicago! This was taken near the NBC studios. It was a nice day because we got away from boring classroom work and got to check downtown out! The first couple of weeks was very classroom oriented and BORING!!! Almost everyone struggled to stay awake for the eight hours we were in class! Doing "hands-on" stuff is WAY better than sitting on your keester for the whole day!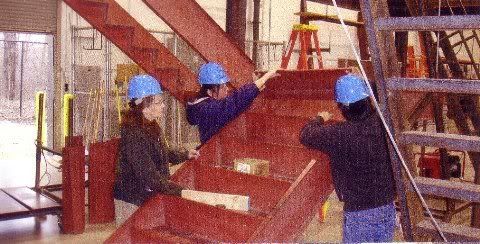 Here is part of my group, The Blue Hats, putting together stairs. For those of you unfamiliar with Ironworking it is a profession divided into specialty areas. Putting together stairs falls into Ornamental work. I'm not too crazy about the hard physical work (and getting all bacon face and sweaty!!!) but am growing to appreciate the benefits. Increased strength, agility, and stamina! So in other words it keeps one in shape!
I am going to post a link here for people who read this and am interested in the program. It's a great stepping stone for Native Americans like myself who are in desperate need of money and just can't afford higher education yet! This is the link
Ironworking School for Native Americans
The site has changed from the last time I looked at it. So if you have any questions please ask me. I have other info but am sorta in a rush right now. Have a great day guys!
Oh! I really would love to work on a blog about Natives in the Iron Working field this summer when I get the time so keep an eye out for that one!!!
Bye :-)